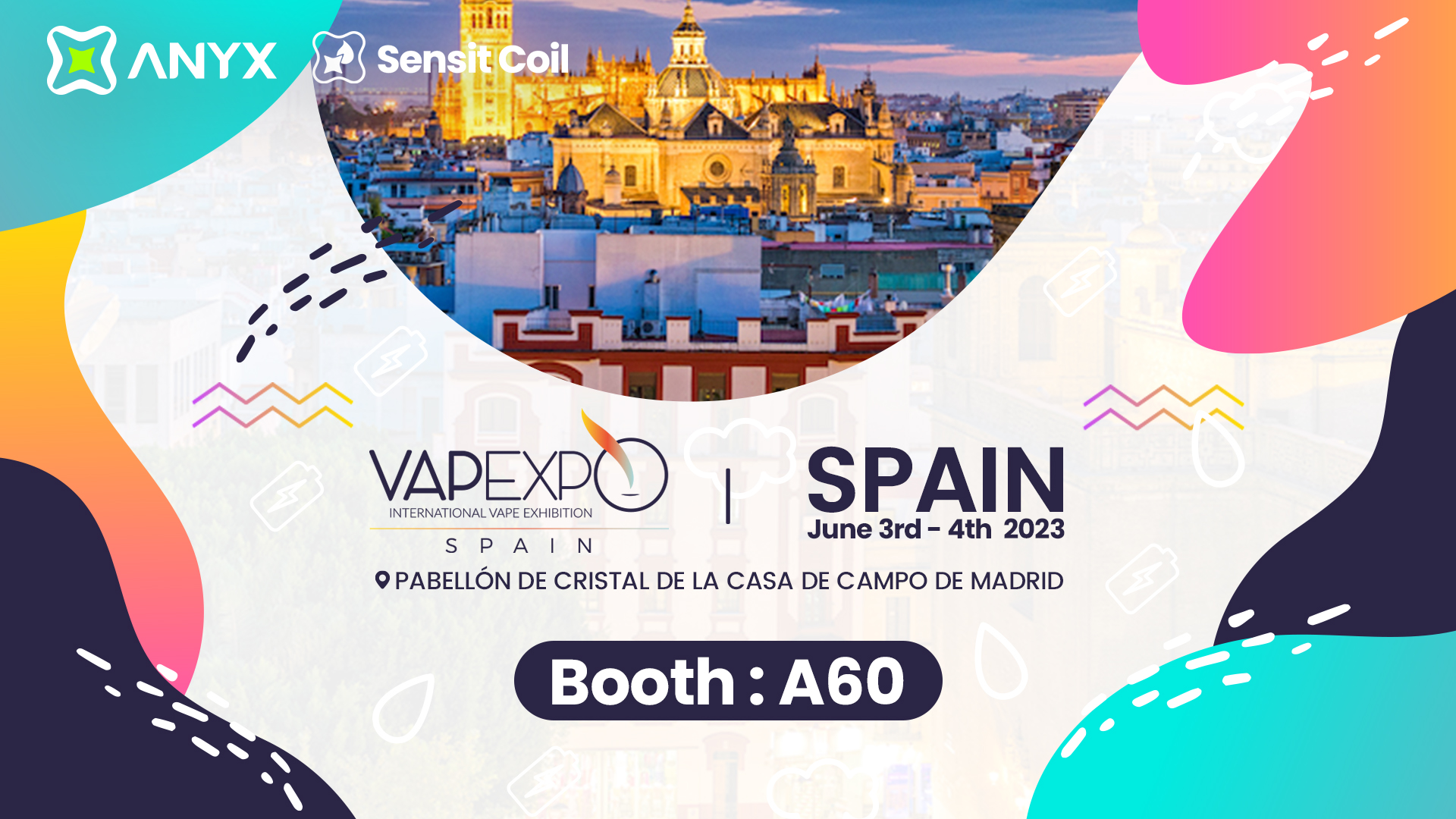 We are thrilled to announce that ANYX will be participating in the upcoming Spain Vape Expo, one of the most prestigious events in the vaping industry. As a leading brand in the e-cigarette market, we are excited to showcase our innovative products and connect with vaping enthusiasts, industry professionals, and potential partners.
The Spain Vape Expo is a significant platform that brings together key players in the industry, providing a valuable opportunity for networking, knowledge sharing, and exploring the latest trends and advancements in vaping technology. With our commitment to quality, safety, and user satisfaction, ANYX is dedicated to revolutionizing the vaping experience.

As we showcase our innovative products at the Spain Vape Expo, we are particularly excited to highlight our groundbreaking Sensit Coil technology. Unlike traditional coil designs found in disposable e-cigarettes, Sensit Coil sets a new standard in the industry by addressing the limitations of disposable pods.
With Sensit Coil, we have revolutionized the vaping experience. The coil separation structure of Sensit Coil effectively solves the storage issues commonly associated with disposable e-cigarettes, allowing us to extend the shelf life of our pods to an impressive 100 months. This means that vapers can enjoy the exceptional quality and freshness of our pods for an extended period. Additionally, Sensit Coil's advanced cotton manufacturing technology ensures an unparalleled flavor reproduction, surpassing the taste retention of regular coil designs by an impressive 55%. We are proud to offer vapers a superior alternative to disposable e-cigarettes, providing them with a sustainable and enjoyable vaping experience.
During the expo, visitors will have the chance to experience firsthand the exceptional features and performance of our flagship products, including the ANYX Pro, ANYX Go. Our team of experts will be on-site, ready to provide detailed product demonstrations, answer questions, and share insights into the cutting-edge technology behind our devices.
In addition to showcasing our own products, ANYX recognizes the importance of collaboration and cooperation within the industry. We are excited to engage with other local and international companies attending the expo and explore potential partnerships and collaborations that will further advance the development of the vaping industry.
At ANYX, we firmly believe in promoting responsible vaping and reducing the environmental impact of the industry. Unlike disposable e-cigarettes that contribute to battery waste, our devices equipped with Sensit Coil technology offer a sustainable solution. By extending the lifespan of our pods and eliminating the need for frequent disposal, we are committed to reducing waste and protecting the environment. We strive to provide users with an alternative that not only offers exceptional performance but also aligns with their eco-conscious values.
We invite all vape enthusiasts, industry professionals, and stakeholders to visit our booth at the Spain Vape Expo and experience the future of vaping with ANYX. Stay tuned for exciting announcements, special promotions, and exclusive giveaways during the event.
Join us at the Spain Vape Expo and be a part of the vaping revolution. Together, let's shape the future of the vaping industry.
For more information about ANYX and our products, please visit our website at www.anyxglobal.com.